.
The Statues of Our Lady Are Crying For Our Help
"He summoned the crowd with his disciples and said to them, "Whoever wishes to come after Me must deny himself, take up his cross, and follow Me. For whoever wishes to save his life will lose it, but whoever loses his life for My sake and that of the gospel will save it. What profit is there for one to gain the whole world and forfeit his life? What could one give in exchange for his life? Whoever is ashamed of Me and of My words in this faithless and sinful generation, the Son of Man will <![if !vml]>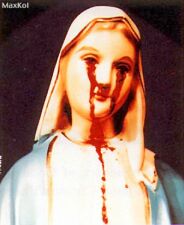 <![endif]>be ashamed of when He comes in His Father's glory with the holy angels." (Mk 8:34-38)
Jesus and the prophets of old, as well as the contemporary prophets, have told us what to expect in the signs of the times. We have been told to remain watchful and to keep "oil in our lamps". A few years ago, Pope John Paul II told his cardinals and the world to "examine the signs of the times".
The signs are present in the aberrations of the weather, earthquakes, volcanic activity, diseases, plagues, wars and rumors of wars, the move towards a one world government and a one world religion, abortions, homosexuality, illicit sex, deceit and violation of contracts, liberal theology, lack of personal responsibility, unprecedented weapons of mass destruction, divorce, murder, rape, DNA engineering, harvesting human organs from animals, medical experimentation which only 60 years ago were considered atrocities, cloning, theft, greed, etc. No other period has known illicit sex broadcast into every home via television, making the family environment a cesspool. Man has made materialism his golden calf. Since Adam, man has always sinned, but today he laughs at sin, even boasts of it. MAN HAS LOST THE SENSE OF SIN AND MADE IT A LIFESTYLE..
"For as it was in the days of Noah, so it will be at the coming of the Son of Man." (Mt 24:37)
Brothers and sisters, we are truly blessed! We have been given the knowledge from above that we are living within the Tribulation, that a purification is forthcoming and that Our Savior will return soon. Both Our Lord and Our Lady have told us repeatedly that we have nothing to worry about if we make the Consecration to the Immaculate Heart of Mary. It is incumbent upon each of us to evangelize and share this knowledge with all. For it was Our Lord who said:  "That servant who knew his master's will but did not make preparations nor act in accord with his will shall be beaten severely; and the servant who was ignorant of his master's will but acted in a way deserving of a severe beating shall be beaten only lightly. Much will be required of the person entrusted with much, and still more will be demanded of the person entrusted with more." (Lk 12:47-48)
Look to Pope John Paul II !
John Paul II declared the Great Jubilee year of 2000 the year of evangelization. Almost immediately after the closing of the holy doors on the Jubilee year, he commenced discussions with representatives of most all faiths: the Anglicans, the Lutherans, the Moslems, the Russian Orthodox, schismatic Catholics, the Armenians, and the Jews to name a few. In the light of his recent repeated references to the book of Revelation, and his above mentioned statements to "examine the signs of the times", it appears as though he was making a momentous effort to gather his flock before the storm.
Once again, it is incumbent upon us to follow his lead; to evangelize. Regardless of our God-given talents, regardless of our respective levels of confidence, we should call upon the Holy Spirit for discernment, wisdom, understanding, guidance and protection. We must trust in God. He can not refuse a trusting soul.
In his book, The Imitation of the Sacred Heart of Jesus (Imprimatur), Father Peter J. Arnoudt, S.J. relates one of his many locutions received from Jesus. Jesus said: "If thou sendest only one soul to heaven, thou givest Me more glory than all men together, on earth, have ever given Me, or can ever procure for Me. For, whatever glory mortals, on earth, give Me, is limited by the number of acts which are at last finished: but the glory which a blessed soul, in heaven, gives Me ---- since it is ever-enduring---- is equivalent to a number of acts to which there shall be no end forever."
Let us plant the seeds of this wisdom today, and let the Holy Spirit cultivate them into healthy plants tomorrow.
Sure they will laugh and scoff. Sure they will ridicule us and ostracize us. But remember the beatitude: "Blessed are you when they insult you and persecute you and utter every kind of evil against you (falsely) because of Me. Rejoice and be glad, for your reward will be great in heaven. Thus they persecuted the prophets who were before you.". (Mt 5:11-12)
A casual and general discussion of the foretold Great Warning of God today will pay dividends after its occurrence. The very ones who laughed and sneered at the thought will be among the first to contact us after its realization to learn more.
The following is a profound and appropriate excerpt of Our Heavenly Father's message to Carol Ameche on April 11, 2001:
Our Heavenly Father said: "…I remind you what great honor you give to Me and to all of Heaven.
My children, this night I simply gather you in My arms to tell you that you are My faithful ones, to welcome new souls who are here, new faces upturned with love and prayer, answering all of My requests, responding obediently and joyfully. I gather you to comfort you and sustain you, My children, for you are My beloved and precious ones. It is you, My dear ones, and people like you all over the world, (My children, My chosen remnant) who will bring My mercy into the world, who will help, who will co-redeem, who will bring salvation to so very many. Remember these words, for it will not appear to be so, as you view the events of the future. And yet, you will be actively involved with many who return to Me. Remember that this will be multiplied many times all over the world; that your prayers will be given added strength by Jesus, My beloved Son, and dear Mary, the Immaculate one, and by all the people in Heaven: all who have ever lived and are there now in the happiness, the bliss, the joy of Heaven. Keep this in mind, My dear ones, for it will be a source of strength. It will give you new hope when new hope is needed, and new reason to continue; for there will be times when you will feel that your prayers are useless, for you have been told there will be many victories by the evil one, by the Antichrist in the beginning of his campaign. But all of these things must occur to fulfill Scripture and are part of My Will. Focus on the joy, My children, that begins this very moment at a new level, new depth, new heights.
My little ones, you are chosen to participate in events, in healings, in conversions, in greater numbers than anyone who has ever lived. Believe this and rejoice. Although I am your God and Creator, mere human words are not enough to explain My love and My gratitude for each of you. You have filled all of Heaven, not only with joy, but hope. Allow yourselves to be filled with hope now and cling to that hope, My children. It will be a valid hope. And, again, it too will sustain you and build on itself and spread like a stone that enters a pond, whose ripples reach the shore and come back again to touch it."
We are living during the World Cup, the World Series and the Super Bowl of Christianity, and Our Lord has called us to play on His team. Our Lady told us to gather information to use in evangelization after the Warning. Those of us who did not act then, should do so now.
BE ALL YOU CAN BE IN OUR LADY'S ARMY !
The Internet is replete with excellent religious resources. Your attention is directed to the very few that follow:
The Catechism of The Catholic Church
Catholic Doctrinal Concordance
The Theological Works of Father William G. Most
The Era-Of-Peace Email Group – Updates on the End Times
Various Links on the Catholic Faith
The Marian Movement of Priests
St. Michael's Garabandal Center
<><
<![if !vml]>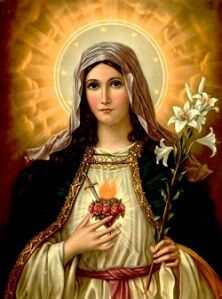 <![endif]><![if !vml]>

<![endif]> With respect to the Consecration to the Immaculate Heart, Our Lady said to Fr. Gobbi (#521): "I request that this consecration, asked by me with such anxious insistence, be made by the bishops, the priests, the religious and the faithful. And let it be made by all in order to shorten the time of the great trial which has now arrived." <![if !vml]>

<![endif]>
An Act of Consecration to the Immaculate Heart of Mary
I, (your name), a faithless sinner-- renew and ratify today in thy hands, O Immaculate Mother, the vows of my Baptism; I renounce forever Satan, his pomps and works; and I give myself entirely to Jesus Christ, the Incarnate Wisdom, to carry my cross after Him all the days of my life, and to be more faithful to Him than I have ever been before.
In the presence of all the heavenly court I choose thee this day, for my Mother and Mistress. I deliver and consecrate to thee, as thy slave, my body and soul, my goods, both interior and exterior, and even the value of all my good actions, past, present and future; leaving to thee the entire and full right of disposing of me, and all that belongs to me, without exception, according to thy good pleasure, for the greater glory of God, in time and in eternity. Amen.
An Act of Consecration to the Sacred Heart of Jesus
Merciful Jesus, I consecrate myself today and always to Your most Sacred Heart. Most Sacred Heart of Jesus I implore, that I may ever love You more and more. Most Sacred Heart of Jesus, I trust in You! Most Sacred Heart of Jesus, have mercy on us! Sacred Heart of Jesus, I believe in Your love for me. Jesus, meek and humble of heart, make my heart like Your Heart.
How to Save Your Children
During one of the cenacles which Fr. Gobbi held in the United States, he was urged by many concerned people to ask Our Lady specifically what could be done to save the youth from the seductions of the world which were leading many of them astray and causing them to leave the Church. Our Lady gave Fr. Gobbi this definite and final solution to console the parents who are so concerned about the salvation of their children:
| | | |
| --- | --- | --- |
| | <![if !vml]><![endif]> | Pray the Rosary ! |
| | <![if !vml]><![endif]> | Every time you pray the Rosary say: "With this Rosary I bind all my children to the Immaculate Heart of Mary.". |
| | <![if !vml]><![endif]> | In doing so, Our Lady promised "to see to their souls.". |
<><
Prepared with the Grace of God
By Ben J. Verdina, April 2001 (Edited September, 2016)
abbacub2000@aol.com
NOTE: We respectfully recognize and accept the final authority regarding apparitions, locutions and prophecies presently being reported around the world rests with the Holy See of Rome and the Magisterium of Holy Mother Church to whose judgment we humbly and obediently submit.
For Additional Information On This and Related Topics Go To:
http://groups.yahoo.com/neo/groups/era-of-peace/info
To subscribe to era-of-peace email group for End Times updates, send an email to:
era-of-peace-subscribe@yahoogroups.com
This writing is listed on the Internet at
Also, read the following writings posted at the above mentioned web site:
| | | |
| --- | --- | --- |
| | <![if !vml]><![endif]> | Iniquity With Divine Retribution at the Dawn of the Era of Peace – A Summary Guide to the Tribulation |
| | <![if !vml]><![endif]> | After The Warning |
| | <![if !vml]><![endif]> | Tribulation Update |
| | <![if !vml]><![endif]> | Thank You For Having Responded To My Call |
| | <![if !vml]><![endif]> | Sky Signs |
| | <![if !vml]><![endif]> | Ben's Calling |
| | <![if !vml]><![endif]> | The Statues of Our Lady Are Crying For Our Help |
| | <![if !vml]><![endif]> | Prayers of Consecration & Triumph of the Immaculate Heart of Mary |
| | <![if !vml]><![endif]> | Heaven and Earth Are Uniting – Fr. Gobbi |
| | <![if !vml]><![endif]> | Ave Maria: Coredemptrix, Mediatrix and Advocate |
| | <![if !vml]><![endif]> | Supreme Authority of the Pope Until Death or Abdication |
| | <![if !vml]><![endif]> | The Myth of the Pre-Tribulational Rapture |
| | <![if !vml]><![endif]> | To Protect the Faith |
| | <![if !vml]><![endif]> | Both Faith and Good Works Required |
| | <![if !vml]><![endif]> | The Catechism and the "Term" Coredemptrix |
| | <![if !vml]><![endif]> | Ecclesiastical Masonry: The Beast Like a Lamb |
| | <![if !vml]><![endif]> | Tribulation Protection: The Blood of the Lamb |
| | <![if !vml]><![endif]> | Scripture Alone? Is Half of the Story Sufficient? |
| | <![if !vml]><![endif]> | Has Matthew 24:14 Been Realized? 'Definitely Yes' |
| | <![if !vml]><![endif]> | To the Refuges on Wings of Eagles |
| | <![if !vml]><![endif]> | Must the Reconstruction of the Temple of Jerusalem Precede the Second Coming of Jesus Christ? |
| | <![if !vml]><![endif]> | The Abomination of Desolation |
| | <![if !vml]><![endif]> | The Era of Peace |
| | <![if !vml]><![endif]> | The Original Prayer to St. Michael |
| | <![if !vml]><![endif]> | Mary, Queen and Queen Mother |
| | <![if !vml]><![endif]> | How to Identify the Antichrist |
| | <![if !vml]><![endif]> | The Whore of Babylon |
| | <![if !vml]><![endif]> | The Mark of the Beast |
| | <![if !vml]><![endif]> | Upon This Rock |
Graphics compliments of: maxkol.org & scborromeo.org/gallery.htm.
We have made reasonable attempts to assure that all materials found on our website are either in the public domain, have received copyright permission, fall under "fair use" provisions of copyright law, or are otherwise available for public use.
As graphics are freely distributed and used throughout the Internet without any attribution, it is particularly difficult to attribute copyright ownership to them. Thus, if any copyrighted material or graphic is found on our website that belongs to you, please contact us so we may either obtain copyright permission and properly acknowledge the owner, or remove the graphic in question.